COME AND DISCOVER OUR DIFFERENT ACTIVITIES
CANYONING IN SAVOIE AND HAUTE-SAVOIE
Discover a refreshing, fun and sporting activity!
Canyoning is a natural activity, a subtle blend of caving, hiking, climbing, mountaineering and whitewater sports 💧. This activity consists of progressing in watercourses, in stretches where they lead through gorges or narrow ravines, with waterfalls of varying heights, and a succession of jumps and slides.
💶 From 55 euros per person
We offer four canyoning sites in Savoie and Haute-Savoie:
AT LA LÉCHÈRE NEAR MOUTIERS

ANGON, NEAR ANNECY

MONTMIN, ALSO NEAR ANNECY

CANYONING DE PUSSY NEAR MOUTIERS
Come and discover these hidden landscapes, a world apart. 🌟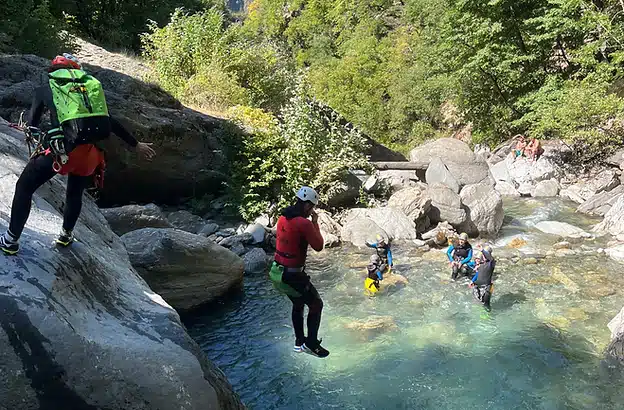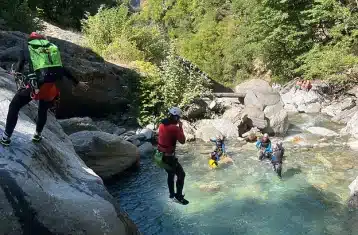 PARAGLIDING IN SAVOIE AND HAUTE-SAVOIE
TAKE ALTITUDE!
We offer flights in France's two most beautiful departments, Savoie and Haute-Savoie. In fact, we have two flying sites: above Lake Annecy and above the Paradiski area (La Plagne, Les Arcs, Bourg Saint Maurice).
You'll discover the joys of flights with no physical effort and in complete safety! You'll be flying a two-seater paraglider with a state-qualified instructor who will be happy to share his passion with you. Much more impressive to see than to do, you'll discover the gentle and astonishing sensation of gliding through the air.
A flight over our mountains and you'll never look at the peaks the same way again. 🌟
💶 From 85 euros per person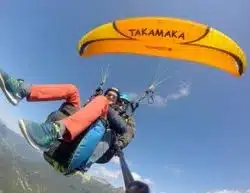 VIA FERRATA SAVOIE
Fancy an aerial walk with a view of magnificent mountain scenery?
A cross between hiking and climbing, the via ferrata is a sporting route located at the heart of a rock face, equipped with specific elements (cables, ladders, monkey bridges, ramps, etc.) designed to facilitate progress and optimise the safety of those using it. Using two karabiners, a lanyard and a harness, set off with our state-qualified guide, who will teach you the basic techniques of this discipline and supervise you throughout the circuit in a friendly, relaxed atmosphere.
The via ferrata Savoie will guarantee you sensations and breathtaking landscapes while practising an outdoor activity. 🌼
💶 From 39 euros per person
Our via ferrata in Savoie :
VIA FERRATA DU LAC DE LA ROSIÈRE – ENTRE COURCHEVEL ET MOUTIERS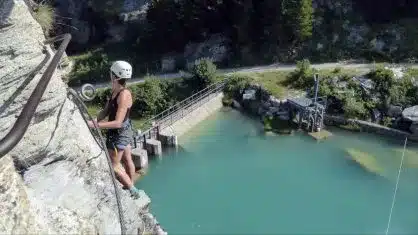 ADVENTURE PARK IN SAVOIE
WHY GO ON A MOUNTAIN ADVENTURE COURSE ❓
The Tarentaise region, with its mountains, forests and natural beauty, is an ideal place for adventure. So we're offering you a taste of it in a safe environment that will allow you to extract all the thrills you desire.
We look forward to welcoming you to our Savoie adventure courses at Le Gothard and Belle Plagne.
💶 From 10 euros per person
Our different adventure courses in Savoie : 
PARCOURS ADULTE DANS LA VALLÉE À LA BASE DE LOISIRS
PARCOURS ENFANT DANS LA VALLÉE À LA BASE DE LOISIRS
JUNIOR PARC EN ALTITUDE À BELLE PLAGNE
PARCOURS AVENTURE EN ALTITUDE À BELLE PLAGNE
CASCADE DE TYROLIENNES EN ALTITUDE À BELLE PLAGNE
TYROLIENNE GÉANTE EN ALTITUDE À BELLE PLAGNE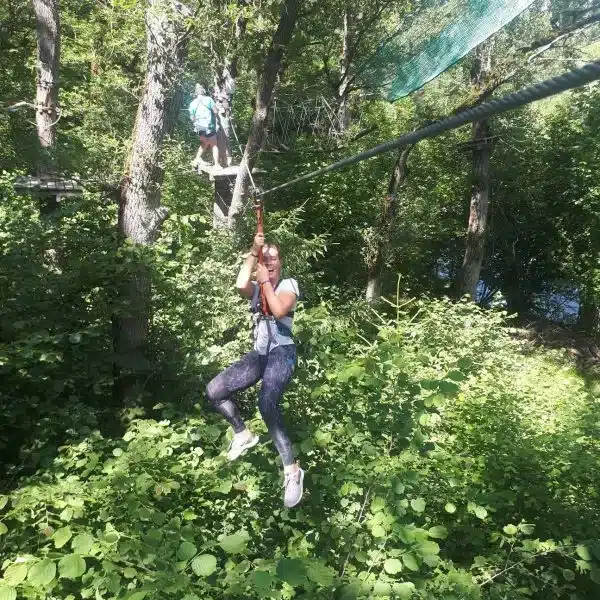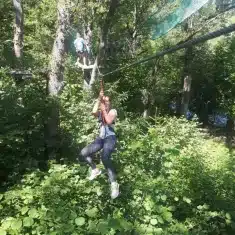 HOT-AIR BALLOONING SAVOIE : ANNECY LAKE
How would you like to take off at a time when nature is awakening, for a magical adventure over Annecy Lake in Haute-Savoie?
Come and experience a real aerial adventure in the footsteps of Jules Verne: around an incredible hour of hot-air ballooning, during which you'll discover the highest peaks in the Alps. Ideally located, Annecy Lake in Haute-Savoie is just 1 hour from our base. You can take off from Talloires, Doussard or Annecy-le-Vieux, depending on the weather conditions!
Supervised by our professional pilot, Bubu, who will be delighted to share his passion for the air and his friendly spirit with you, join us for an extraordinary experience.
In short, hot-air ballooning is an unusual, prestigious and magical activity, full of sensations of freedom and 100% nature!
💶 From 290 euros per person (This activity requires a minimum of 2 people).
MONTGOLFIÈRE À ANNECY-BAPTÊME LEVER DU SOLEIL
MONTGOLFIÈRE À ANNECY-PRIVATISATION 2 PERSONNES LEVER DU SOLEIL 45 MIN À 1H15 DE VOL
MONTGOLFIÈRE À ANNECY-PRIVATISATION 2 PERSONNES LEVER DU SOLEIL 2H DE VOL


Find out more about our other activities in Savoie: